#1. On the train to Germany from Amsterdam
The scenery through the window from the train is the best companion for the trip I go alone. I just rely on the train track and embark on my journey. The window scenery is truly a road movie. The trip that crosses the country border and passes through numerous villages and fields continuously gives me the impression that 'I'm going somewhere' so it is never boring. However, out of the blue, I ask myself:
'Where am I heading to?'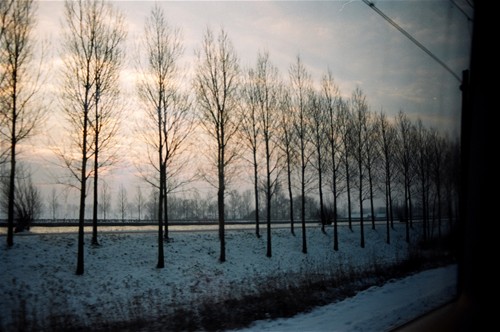 #2. In a rainy Rome
There are many things to prepare just in case it rains during my travels. I feel lazy about it though. My hands are already occupied with a bag and a camera but I also have to hold an umbrella.
At a moment in heavily rainy Rome, when I lost all of my energy, I encountered a particular scene where buildings and roads have twins. Just like other photographs taken from traveling, I don't even remember when it was and why I took it. But for this particular photograph, I clearly remember the feeling of that moment. This was the moment that a curiosity arose from deep wthin my mind about my life.
'Where am I? What am I doing here?'
(Probably that's why I like this photo even though it is out of focus.)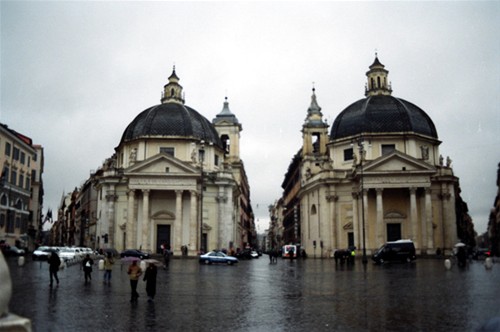 #3. The way to take a tube in London
We always take quick little steps in a hurry, unaware of where we are heading to. If there is a path, we just follow that path, and if someone in front of me runs, I follow running. While traveling, you always face a decision. It is up to you to decide where to go. And of course, the responsibility for that choice is also on you. However, not being embarrassed when taking off at the wrong station is the virtue that travelers must have. In fact, there are no such things as good or bad choices. Coincidences become stories and regrets are just a waste of time. The world opens up all of the possibilities to give me teachings. Whether to utilize those possibilities one hundred perecent depends on how much courage I have.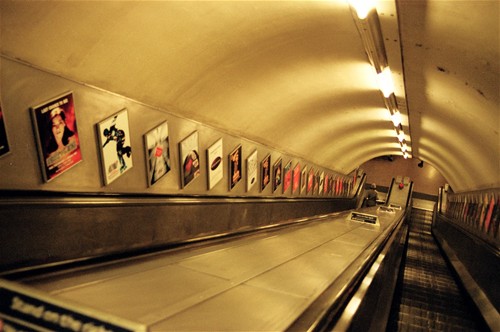 #4. A night street in Edinburgh
The city nights are lonely, no matter where it is. While walking down the street alone, I encounter and gaze at a strange scene. At that moment, time stands still along with the thoughts in my head. The light that nights create, which is different from the day tells a story. I almost begin to hear the storytelling from the streetlights and shadows. At the moment that the shining lights from day and storytelling from night coexist as one, my consciousness looks inward. The moment that I look back on myself and think about what kind of person I am remains preciously in me. That's why I like traveling.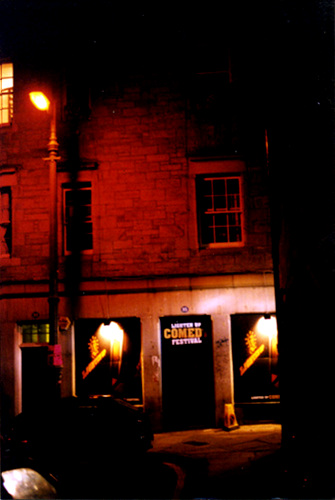 There are many presents that traveling gives us. But when it gives us questions that make us reflect on the inner self, the travel shines brightly. Where did I come from and where I am going? We try to find the answers from the journey we are on. Why do I exist and what am I doing? We are continuously taking a path even at this moment towards the answer that we must find someday on our own from the long but short journey called life.